Hello, World.
Dressing for crazy heat waves is kind of hard. I tend to get really lazy with my dressing in summer because I'm just trying to NOT sweat to death. Overheating is not the business. So, I wanted to take a little bit today to round up three summer looks I'm currently loving. The looks I've chosen are easy to put together, aren't going to let me overheat, and still look chic. I used to have a summer uniform, which was basically a Chino short, a nice top, and some sandals, but over the last two years, my uniform has kind of morphed. So, here are my picks for summer outfits:
I love love love the look of a button up denim shirt with a white tee. It seems so effortless to put on, but it is also so chic. I personally prefer a dark denim wash, so I like the darker denim skirts. I also think the button up front makes the denim skirt more grown up and more stylish. I haven't worn a denim skirt since middle school, but I think this look is something I could wear!
The white baby doll dress with either lace or embroidery is such a cute summer look! I love the effortlessness of a dress, and I think white automatically makes a look higher end, and the lace or embroidered details add a little boho to an otherwise classy look. The balance is great for summer!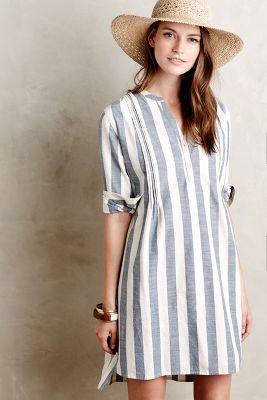 Linen is my go to summer material. I love the look and feel of linen. I love the look of a striped linen dress. It reminds me of walking the streets of Italy or France in the summertime, or hitting the local farmer's market, or grabbing an iced coffee with a friend downtown. I think a linen dress kind of embodies summer style.
What looks are you loving this summer?